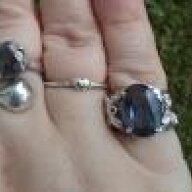 Joined

Aug 28, 2016
Messages

9
I purchased these 2 amazing color change rings a few days ago.
I was told color change garnets, from a prominant estate in Georgia. The pictures were purple, said blue in natural light. Round is 3+ carat the oval is 5+ carate. Skeptical but curious I bought them.
Once I got them I jumped online and began hunting for garnets with the same color change. Bekily looks exactly like these.
Alexandrite ruled out in my mind because of the stone sizes.
Florite? No the hues aren't really the same.
Bekily really is the only stone that makes sense to me. I think whoever made them was a hobby silversmith. I see hammer marks, the soldering is messy, these were definitely made for the person making them. They aren't gift giving or sale quality so if they were the maker's prized possessions could they really be Bekily?
I do see inclusions when I look for them.
Either way, I'm obsessed walking in and out snapping photos in all light sources different times of day.
Yes, natural light or unnatural light, the shade depends on the time of day.
Unnatural light:
Morning dark reddish purple
Afternoon dark purple
Evening reddish purple
Night Berry Pink (pink saphire color)
Natural light:
Morning purplish blue
Afternoon steel blue
Before sunset blue-green (more green)
Thoughts?