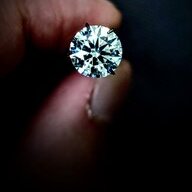 Joined

Aug 8, 2019
Messages

12
I've been really skeptical of buying a diamond online. But after visiting local jewelry stores, I ended up buying one from James Allen (assortment and price were far better). I used the tools on this site to help narrow down my choices and ended up with:
https://www.jamesallen.com/loose-diamonds/round-cut/1.74-carat-f-color-vvs2-clarity-true-hearts-cut-sku-7451452
I understand I'm wasting money on color and clarity. But 1.8 is as high as I was asked to go (she has a size 3 finger), so I was able to splurge with my budget (~$20k).
I believe I've checked all the boxes, but is there anything in the 360 view a novice like me is missing? Does it look dull or a bit out of focus? Will the fire/scintillation/brilliance be good? The price is lower compared to similar diamonds, so I'm being very skeptical - a second opinion would be helpful. With the 30-day return, I'm open to suggestions for other diamonds as well. Thanks!