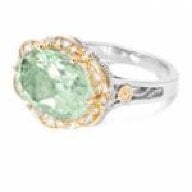 Joined

Aug 24, 2006
Messages

2,216
Well...after a relatively short time on the BIW list, I am off in the morning to my destination wedding/honeymoon in St. Croix! The last few days have been crazy, and I was starting to get a little sad thinking that I might not get everything done/I won''t look perfect/I might forget something....all that jazz. But I realized today that it''s time to just take a deep breath and enjoy. Things will be what they will be with the wedding and I am sure everything will be just fine in the end.
Also wanted to take the time to thank everyone on PS who helped me along the way in the planning, both directly and indirectly. I got a lot of ideas and advice and all of it was definitely helpful and much appreciated. So when I come back in about a week I will be a Mrs! Wow.
In any case, I thought I''d post this picture because I don''t know that I have heard it mentioned here. Below is a picture of a special wedding broom. During the time of slavery, African-Americans were not able to get married in the traditional way so instead they would "jump the broom" and once on the other side could proclaim themselves as married. Many people incorporate this tradition into their ceremony as a sort of tribute to our ancestors, and I decided to do the same. A woman in my area makes custom brooms and I think she did a great job with ours, and I loved it so much that I wanted to post it here...