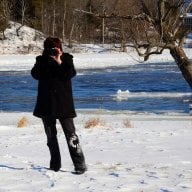 Joined

Sep 3, 2013
Messages

2,385
There are lots of tragic, shocking and horrific things going on in the World. This story does not fall in that category.
But it made me sad to read, nonetheless.
I'm sure this woman will rebuild her colonies and continue to do what she can for bees.
The theft took place in Portland, Ontario, Canada.
Here's the link to the article, but I've copied it below for those who prefer not to use the link.
http://www.ottawasun.com/2016/07/08/bee-colony-theft-bold-as-brass#
Here's the link to Debbie Hutchings' website, Debbee's Bees.
http://debbeesbees.ca/
**********************
It was a professional heist. The culprits — and it must have been multiple perpetrators — definitely had a carefully-orchestrated plot. No one steals 10 colonies of angry bees, in the dark, on a whim.
And not just the hives, some weighing as much as 200 pounds, but 16 other containers of bees as well — about half a million stinging insects in all. The daring theft that wiped out untold hours of work for beekeeper Debbie Hutchings wasn't discovered until the next morning.
"I'm so devastated. I'm numb," says Hutchings, who works in her Debbee's Bees apiary just south of Big Rideau Lake near Portland from dawn to dusk in the summer.
"These people knew what they were doing."
Times are tough for beekeepers. And that means more larceny. There have been dozens of reports of noctural thefts in the U.S, and now it's happening in Canada.
Rod Scarlett, executive director of the 8,000-member Canadian Honey Council says he has heard of seven or eight reports in the past year, including the theft of 180 hives with an estimated value of $200,000 in Victoriaville, Quebec, in April. Two men were charged, but the bees were never found.
Bee colonies are being wiped out and there are more beekeepers in search of a way to rebuild their hives without the work of splitting existing colonies, says Scarlett. "I always believed it happened on a small scale. But there are more people with experience out there. People are able to work without being detected and get things done."
The Internet helps. Hutchings' bee yard is out of view from the road, but her husband Clarence points out that the yard — even the individual hives on their pallets — as well as all of the pathways on farm are clearly visible using Google Earth.
The OPP are investigating and helped Hutchings reconstruct what probably happened.
The bee yard is about 500 metres from her farmhouse just off Narrows Lock Road near Portland. On Wednesday evening, she and her husband Clarence had visitors. Hutchings heard the crunch of wheels on the ground, but thought it was her sister going to check on a horse. The farm dogs were barking, but that was not unusual.
"We thought it was a racoon," says Hutchings.
The next morning, Clarence went to check on the 16 "nucs" scheduled to be picked up by customers. Short for nucleus colonies, these are containers of bees, including a queen, in a small box. A nuc will eventually expand to become a full-sized colony.
Out of the 17 nucs that Hutchings had prepared, only one remained. And the colonies that she harvests to create the nucs had also disappeared.
"It's bold as brass," says Beth Girdler, a friend of Hutchings. "They could have been spotted. It smacks of someone was was prepared to get in and get out."
It was apparent that the theft involved a gutsy and elaborate plan. The thieves left the road using a path used to access a hay field. Tracks showed that a larger vehicle had turned around and unloaded a smaller vehicle, which went into the bee yard and ferried out the hives and nucs.
Bees are easier to handle in the dark. While they might crawl and can still sting, they don't fly, says Hutchings. "This was a professional."
Hutchings is more of a bee breeder than a honey producer. Her nucs are so popular she had sold out this year and into 2017 as well. Customers pay $210 for a nuc.
The stolen colonies are valued at about $1,000 each, but to Hutchings they are priceless. According to family lore, the first Hutchings bee colony came across the Atlantic from England in 1848 in an oak barrel stuffed with straw on a tall ship.
Hutchings has had about 260 orders for nucs so far this year, but only about 70 have been filled. "I was going to have my big blitz this weekend," she says.
She's not optimistic that her bees will ever be found. The hives and nucs don't have any markings, so they would be hard to trace if sold. She suspects that they are going to the apiculture version of a car theft chop shop, to be divided and resold. The wood hives will be burned so there's no evidence.
Hutchings can rebuild her colonies, but it will take time. "I was in denial. But now I'm getting angry," she says. "This is serious stuff. I don't want it to happen to anyone else."
Girdler considers Hutchings to be a mentor. "She knows more about bees than anyone else. This is a huge blow to her. Beekeeping has been a challenge. This will set her way back," she says.
"It's really puzzling," says Clarence. "Anyone who knows Debbie wouldn't hurt her. She would never hurt anyone else."
PHOTO: Beekeeper Debbie Hutchings sits with some hive boxes on her family farm in Portland on Friday, July 8, 2016. DARREN BROWN / POSTMEDIA