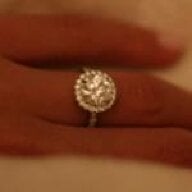 Joined

Mar 12, 2009
Messages

785
This is my very first post after lurking on this forum for the past 3 weeks!
After my fiance proposed (and i said yes!) on 2/21/09, both he and I started researching extensively online and stumbled upon this amazing forum!
a few months ago we already had an idea that i really love the Tiffany 3-stone ring (RB center with pear sides), and love love love the amazing setting, and wanted to have something exactly like that done for my ring.
we finally decided to work with Yekutiel at I.D. Jewlry in NYC, who is absolutely courteous and treated us like long time customers. I.D. also has the most extensive diamond inventory which you can search in advance on its website. My Fiance called Yekutiel and he was able to pull the diamonds we wanted to see, plus he picked out at least 5 similar loose diamonds for us before our decision on this one. Since we also live in NYC, the ring was finished within 8 business days, and only took 1.5 hours to re-size without charge at Vatche (Yekitiel has his own guy there who prioritizes all of his orders!), when i realized that the ring needed to be a 5 and not 5.25. My mom is so thrilled about the ring (price, size and quality), that she is planning to go to I.D. for a pair of studs very soon!
here are the specs!
RB Center Stone:
1.72ct, F color, VVS2
7.69 x 7.73 x 4.70
EX/EX/EX
Fluorescence: NONE
Pear side stones:
0.6ct total, F color, VS
Setting: D Vatche
Size: 5
The entire ring is exactly identical to the tiffany ring, i'm soooo happy !
thankyou for letting me share!