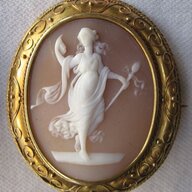 Joined

Apr 17, 2002
Messages

3,618
I found a beautiful little platinum art deco diamond ring on ebay and couldn't resist buying it. I believe it's all original, from the 1920s or '30s. The setting is handmade with milgrain and single-cut stones in a classic deco design. It's really well made and lovely, and in beautiful condition. It's marked "10% IRID. PLAT." The center stone is 4mm (so about a quarter carat), a nice OEC or transitional cut with a medium culet, probably in the I-K color range (I'm guessing--not very white, but not very yellow). I got it for a good price and am delighted with it.
However, the center stone is very included. There are a couple of big feathers, including one very prominent one that basically takes up a whole quadrant of the diamond and reaches the surface, with some carbon and a couple of what look like naturals to me, but could be chips, on the crown. It's at least I1, maybe I2. But because it's only 4mm wide, the flaws aren't particularly easy to see without a loupe, at least to my oldish eyes. I think this is probably the original center stone--it's from the right period and fits the setting well, and the setting shows no sign of having been monkeyed with.
What would you advise me to do with this ring?
1. Leave it as it is; wear it and enjoy it. (I'll need to size it; it's currently way too big even for my pudgy fingers.)
2. Replace the center stone with a cleaner quarter-carat OEC/transitional cut colorless diamond (in which case, where would I find a good one?)
3. Replace the center stone with a 4mm colored gemstone (in which case, what kind?)
4. Replace the center stone with a 4mm fancy yellow diamond or other fancy colored (in which case, where would I find a good one and how much would I have to spend?)
Here are some photos of the ring. I couldn't get good photos of the inclusions, partly because the daylight was starting to fade when it arrived today and partly because it's so small; I'll try again tomorrow. I did take some pictures with my microscope, but they're a little hard to understand.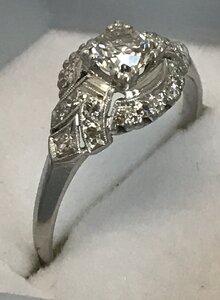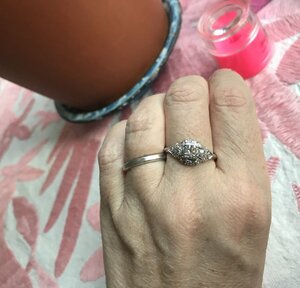 Here are a few shots of it with three platinum diamond rings from the same era: my grandmother's 1929 engagement ring (F VS1, 1.4 or so center stone), another 1920s ebay find with sapphires and a 1/2 carat or so center stone in the middle, and the new little ring at the top of my finger: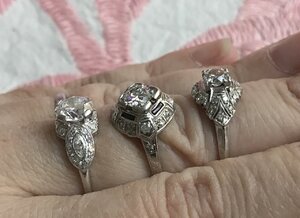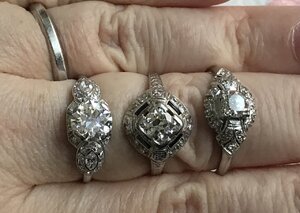 And here are a few attempts to take pictures of the inclusions with my microscope: