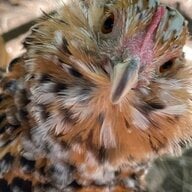 Joined

Nov 4, 2011
Messages

495
Hi,
I have two star sapphire rings which appear to have naturally mined gems, dating back to the 1920's or before (I am rather certain that they are genuinely vintage/antique). Each of these have what appears to be a blue (slightly bubbly or textured) coating on the back. I assume this was done in previous times to "accentuate" the color of a star sapphire. One of the rings I did have was checked by a color gem specialist/appraiser -- he found the sapphire to be a natural star sapphire and did not have an explanation for the coating. He thought it could be just "color zoning" but wasn't sure. Now that I have a second ring with this exact same coating on the back, I am fairly certain it is not a natural phenomenon.
I have been searching and searching for some reference to this coating, and finally found this:
https://www.rubylane.com/item/1275970-ER-97/Antique-English-Arts-amp-Crafts-Sterling.
.
I am not sure I believe the lister on ruby lane that this stone is a moonstone -- it seems to be possibly a star sapphire with the same coating I am referencing on back.
So my question is: have any of you heard of this coating, and if so, do you know what it is?
I would send a picture, but so far haven't been able to get a good shot of the back of these rings. I will try.