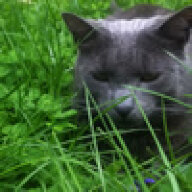 Joined

Mar 23, 2007
Messages

71
I'd love to hear success stories about how you got your babies to fall asleep and stay asleep (without feeding) throughout the night. Please also include info such as the baby's age, whether baby was formula or breastfed at the time, where the baby slept, how long it took, etc.

My personal situation: at 6 months old, our son's sleep is now worse than ever, although it's largely because we're trying to break some (bad?) habits -- nursing to fall asleep, co-sleeping in the same bed, and nursing on demand throughout the night. We have a new, consistent bedtime routine and put him down drowsy but still awake around 8pm, but he still wakes up crying at 12am, 3am, and 5am before waking for the day between 6 and 7am. I try to rock him back to sleep but it rarely works, and he just gets hysterical until I feed him, although I'm not convinced that he's truly hungry. I've also sent my husband in to break the association with middle of the night feedings, but no luck with that either.

The pediatrician, day care, and lots of other experienced parents are telling us that CIO is the only way, but after several hour+ screaming sessions we were at our wits' end and felt that it wasn't the right solution for us. But we're desperate for a good night's sleep and for our baby to learn how to self soothe, and are willing to CIO if that's really what it takes.

I'm sure that a lot of parents here are in the same boat, and there might not be a one-size-fits-all approach. So, general advice would be great. What did it take for you to consistently get a good night's sleep?