I've been working with a Kelvin at Starsgem but when I told my fiancé it was coming from Overseas and how cheap it was, he X'd that out real fast and gave me a budget of 2,500.
I've been doing a lot of research and pretty sure I want to go with AV H&A. I'm no diamond expert, so I just want something that looks as similar to a diamond to the naked eye as possible. I want it clean, colorless. I don't know anything about faucets, depth, anything so it's really overwhelming with all you experts! Lol. This is so helpful. Would you say AV H&A would be my best bet? I was going to go with True Gem, but I feel like AV is better quality from what I've been reading. Inspo pic - very simple solitaire.
but is paying double for H&A from AV vs starsgem really "worth" it?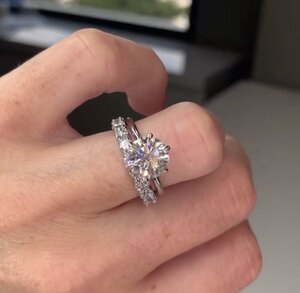 Last edited: