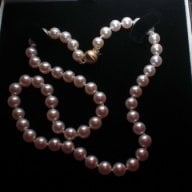 Joined

Apr 28, 2008
Messages

5,609
Hi Friends,
Pearls are what got me into gems and jewelry - and recently I started feeling called to track down some stellar akoyas. I came across
Aus-Pearl
on ebay, and bid on a few pairs of akoya studs under ~$50 each, and won. Shipping is about $36, so I would try to ask for a combined order to save on those costs. I was pleasantly quite surprised by the deal I got and the quality of the pearls - the tl;dr is that this is a solid value vendor that seems to take actual photos of the item you receive.
7.5mm 'Tennyo' akoyas - Aus Pearl on the right, PP AA akoya pearls on the left - Aus Pearl is the pinker set. I was stunned that the Aus Pearls are actually a smidge nicer than my Pearl Paradise, at 1/4 of the price. I'm SHOCKED at how much I love these over the PP. I have been a loyal PP customer for years and years - I have had their AAA akoyas, AA akoyas, Freshadamas, and have bought at least a dozen gifts for friends and family over the years from PP - so to have a random eBay pearl vendor top that was a tiny bit surprising. The Aus Pearl akoyas have sharp reflections, is super smooth, and has that gorgeous akoya depth. These are NOT Tennyos or Madamas; I have seen some AAA's and Madamas live, and these are not it. I'd say that they're a solid AA+ (pearl gradings are all over the place, so I'm going to caveat this with 'my understanding'/personal distinction of what a AA pearl is).
10.5mm 'Aurora' akoya studs - high luster with sharp reflections, wrinkly skins but no pits/bumps/etc. They are gorgeous! Just what I want in akoyas - that sharpness. The nacre seems pretty thin - I have no proof here, but its probably a safe assumption given the price. The posts are 14k or 18k (don't remember) - they're quite thin, but solidly constructed. I looked at the photos carefully, and I do think that they posted an actual photo of the item I received.
I bought these studs on auction, and I wonder if the regular priced studs are substantially nicer - I'm sure they didn't want to send out a pair of actual Tennyo's for $30, though they shouldn't have advertised as such if they weren't actually auctioning Tennyo's. I'm probably splitting hairs a bit as a PS consumer, but I wanted to share all my gloats and my gripes. They came packed in cheap pouches, but I don't buy jewelry for the packaging, so I'm fine with that. Just an FYI if you're gifting these.
I am still on the hunt for my glorious and most perfect Akoyas, but these are quite nice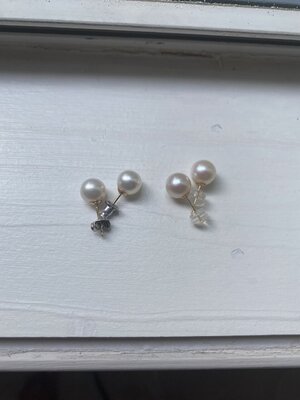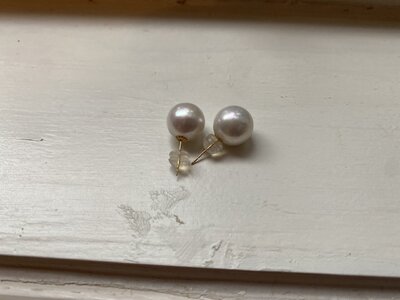 Last edited: