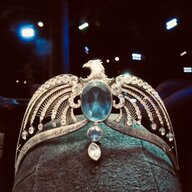 Joined

Nov 26, 2018
Messages

106
I mean the new vintage style oval, not the Elyque.

I'm trying to investigate this cut as a potential alternative to an AVC.
Reasons being: potentially more finger coverage, and I tried on a modern oval and liked how the shape looked on my finger.

There doesn't seem to be much from Rhino yet in Instagram, YouTube etc in terms of photos/videos/ASETs of the new oval.
Does anyone have any experience of it?
Does it have the sparkle and fire to rival the AVC?
Is the facet pattern as attractive as, say, the AV European cut? Or is there room for future improvement?

I'm hoping someone out there has some real life experiences they can share. Any opinions or advice welcome! I would be aiming for approx 0.75 carat, J colour, if that's relevant.