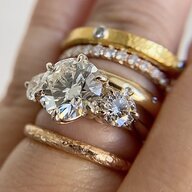 Joined

Jul 25, 2018
Messages

140
I've always loved the flowery spread of OEC. It's romantic, whimsical, and special. You know how it is when you can't stop thinking about something.
There's a ton of threads spreading the word of Rhino at August Vintage. I popped on his site and see a lovely 0.904 O VS2 European cut and looked oh so clean and had the exact warm hue I'd been lusting over.
Before I dove into PS, you would have caught me thinking "why in the world would I ever want a warm diamond? Who does that?"
Then, I got it. The appeal bit me like a hungry mosquito on a hot summer evening.
I have a bright white G VS1 WF ACA 1.988 as my e-ring and wanted something for either the right hand, or just to wear casually. (It seems I am always on the hunt for a casual ring, at least this is the story I tell myself, lol).
On a whim, I went for it. No ideas on settings (which all know accounts for more than half the battle.) There were a few Stuller settings that were fine, but not exact Rhino gave me some ideas on something simple, bezel, meaty, and rose gold. He ended up designing the "Esti" setting for me and we could just tell it was going to be great!
Here she is. Right on time for Thanksgiving! I know she's smaller but man, she's a killer!
Diamond Deets
: O, VS2, 0.904. 5.95-5.98 x 4.06mm. AVOEC have sharp + clean facets. So clear you can see them on this smaller diamond! I'm amazed how beautiful this little gem is; she sparkles with the best of them.
Setting Deets
: 14kt rose gold, milligrain detail around bezel, euro shank (nice and meaty!), matte finish.
Rhino Deets
: amazing to work with. So personal and communicative. Has been my fave vendor to work this thus far. Has great ideas and worked with me on price point. 13/10 would recommend to a friend.
Thanks for letting me share and have a HAPPY Thanksgiving.