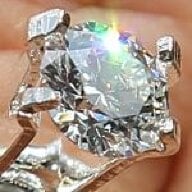 Joined

Apr 25, 2014
Messages

7,167
So, as my lottery win has still to occur

and seeing as
@Dancing Fire
didn't gift me his Octavia
I am constantly eyeing up 'budget options', so that I might be able to get a bit of bling in my life until I can afford that 2ct+ colourless Octavia or Yoram Vintage Asscher that I neeeeeed, er, I mean I would like... (please, Santa, I've been a good boy!!

)
I love stepcuts and I love wide rings (7mm seems to be my sweet spot) so it seems that my only options are either a fairly high ratio Emerald Cut (to get the full 7mm edge-to-edge length but with whatever width it came in within my meagre budget) or something like a <5mm Asscher (to then be set in a tension setting ring with a gap to the edges of the ring).
But 5mm is really not that large for a stepcut, in terms of actually being able to see those long facets working - is it too small to have as a standalone stone that performs well within a ring?
I know that
@Matthews1127
has her 3.5mm(ish) Yoram asschers going into her 7-stone band, and there have been some lovely pics of similar rings within her thread
but that is a different look to a traditional/stereotypical "gent's" ring, which don't usually have that much bling in them! (Not saying that is right and shouldn't change, of course
)
I have considered perhaps using two Yoram asschers in that size to create a look not dissimilar to a high-ratio EC in a tension setting, having them side-by-side, but would they be 'enough'? I vacillate between thinking 3.5mm is not actually that small and thinking that they will be teeny-tiny, lol, and I don't think I'd be able to really know for sure unless I saw that size asscher in real life (which is basically impossible here in the UK - it's hard enough finding asschers, nevermind small ones
).
So... I don't know where I'm really going with this thread... lol
If I'm trying to Fantasy Window Shop with an imaginary US$1-1.5k budget, there are quite a few different options, some of which really do look good and should look quite substantial in terms of their measurements, despite being perhaps only 0.45 - 0.6ct. A 5mm stone might just be do-able in that budget, and that's not that far off the missus' 0.67ct 5.6mm(ish) CBI stone, which didn't cost $1.5k!!

I guess the
TL;DR
version of all this rambling is just the title of this thread, really, but I welcome all viewpoints!
(I am not really sure if I'm seeking enablement or not, though - I have plenty(!) of bills to pay but I have just spotted a stone that really is calling to me and making me want to wave the plastic about, despite being somewhat contrary to the stones I usually recommend to others... lol)