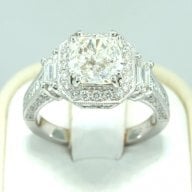 Joined

Oct 11, 2007
Messages

83
Hi everyone, I have been a member forever but haven't posted in a LONG time.
I just ordered a new ring for travel, a 2.5ct Asscher Moissanite.
Then I remembered that Asscher diamonds face up smaller...... is this the case with Moissanite?
I have a 2ct round diamond and I am worried I will think the 2.5ct Moissy will look small.

Can anyone help me out? Should I get a 3ct?

I would just go try them on but we are currently locked down due to Covid and will need to change the order ASAP if I decide to change the stone size.

My ring size right now is just under an 8. Am losing weight, so will end up being a 7 when all is said and done.

Thanks!