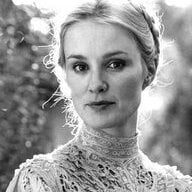 Joined

Apr 29, 2019
Messages

182
Good morning fellow sparkly lovers.
Does anyone have any personal experience with the "Ashoka" cut?
I'm looking for a new wedding band. I finally found one I like. I has both sapphires and "Ashoka" cut diamonds. I had never heard of this particular cut before, so I was wondering if anyone can chime in about it. I have Googled it and it seems to have been around for awhile but would like to hear anyone's personal experiences with it.
The designer is Kwiat, which I believe to be an older and reputable brand. Again, if anyone has any opinions or personal experiences about them, please chime in. I was simply taken by the design and look of the ring. It is the first band I've tried on that is both substantial yet comfortable, icy cool and sparkly (they use E color diamonds), and contemporary yet also retro/deco looking. In person the workmanship is exquisite.
I'm kicking myself because I didn't take any photos at the jewelry store (I was smitten and I forgot about photographing it!). The only pic online I could find was this one, though it absolutely does NOT do the ring justice.
One small piece of background is that I wear my wedding band and my engagement ring on different hands. I like it that way. I am not into stacking. Therefore, I like each ring to be substantial and stand on its own. This ring is wide, I'd estimate a quarter inch, and has presence.
Any thoughts/opinions/personal experiences would be appreciated.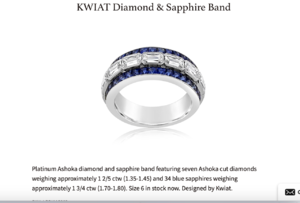 Last edited: