So far, I like the photos I've seen or Royal Asschers, but have yet to see one in person.
Sourcing them is a bit of a fuss, so before so take the plunge, I'm wondering how they behave in terms of real-world light performance.
Does anyone happen to know of an ASET image out there or perhaps aN AGSL report with light performance grading?
Strmrdr AKA Karl_K and DiaGem, I know you have opinions on RA's but may be limited in what you can say. If you could shed some kind of light on the topic, it would be greatly appreciated!
For reference, I'll include 2 candidates. One is a RA that I've not seen in person. The other is a GOG signature Asscher (with an ASET image). The more octagonal one is from GOG.
The GOG Asscher performs very well but is a bit odd. It's extremely bright & dispersive, Symmetry and light performance are Ideal per the AGL cert and the meet points all look perfect, but it shows oddly asymmetric contrast patterns under the table. Seemingly random facets go bright and dark at different angles and different conditions.
Thoughts, anyone?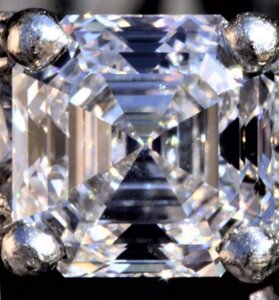 View attachment 727531
Last edited: