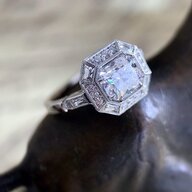 Joined

Mar 7, 2019
Messages

9
Almost 10 years ago I used the wisdom of PS research to upgrade my engagement ring center stone using Mark at ERD/BE. He found me a 1 carat elongated cushion that did not disappoint.
Coming up on 15 years of marriage, I had been hinting to my husband I'd like to have a halo. He gave me the green light on my birthday in February and I immediately messaged CvB. I knew I wanted french cuts and an unusual halo but the only example I found was VC's decagon Tamara which I discovered on PS. It is an amazing piece but I just was drawn to CvB. She posted an Art Deco halo with a round on IG that had french cuts and I asked if she thought it would work for an elongated cushion. She was so excited to translate her design. Obviously Covid-19 has prolonged production times, but I got the first look photos tonight and am thrilled!! I knew only PS would understand.
I will try to include, my original setting with diamond before I shipped to Caysie, the CADs (which are a poor representation of her magic), the inspiration "Jolie" design and then my almost in my hands finished product!