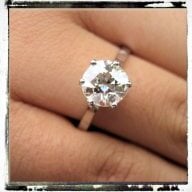 Joined

Apr 9, 2007
Messages

1,938
Do you and your SO argue?
Obviously (or I wouldn''t have started this thread

) me and mine do. We are both arguing kind of people. The problem is that we are so much alike, it is crazy!
Anyway, does anyone have any suggestions on how to argue more effectively/fairer?
My problem is that sometimes I snap at him when I do not realize I am doing it


. I am really struggling with this, because I love him so much and I do not want to hurt him at all. I just do not realize it when it happens. Is anyone else like this? Or know a good strategy for NOT being like this?
Just having kind of a crappy day.