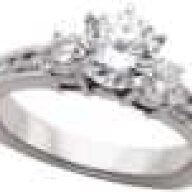 Joined

Feb 19, 2006
Messages

49
So we went to Jared today... they were SO shady!!
first they said that to make the ring how I want it, it will be at LEAST $1500 more! the setting I liked was $1900 to begin with! (it''s not even platinum!) Then I asked them if they had a brochure or a picture of it that I could have so I could remember it or compare it to other rings I was considering - and they obviously said NO. Then I just asked for the manufacturer name and the model #... they said "there''s no way for us to tell what manufacturer made this ring"
can you believe that!!! come on! if they want to order another one, they have NO way of knowing which manufacturer to call?
So now i''m stuck again... I dont want to spend near $4000 for just the setting... and I want to know how much
whiteflash
would be willing to make the same setting for (hopefully a more reasonable price!) but I wanted to show
whiteflash
a picture of it, since I cant describe all that!
oh, and they also kept trying to convince me that I would like other rings that weren''t "exactly" what I was looking for "but close enough". that bugged me too!! why would i want something "close enough"?
ok, i just wanted to vent... and hopefully someone will have a solution to this conundrum of mine...
if only i had a photographic memory and a talent for drawing... then this wouldn''t be so hard