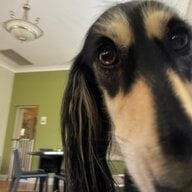 Joined

Jan 22, 2014
Messages

5,028
Well, well, well.
This one exceeded even my expectations.
Back story - I wanted a "budget" (this is a relative term ha ha) friendly pre loved but worthy setting for one of my 9mm sapphires. Or did I?
I found the setting and then was torn about splitting up the pair of well matched 9mm round sapphires. Do I use the better of the two ? The other? Neither? ugh.
Then my beloved eBay delivered the solution, another sapphire. A cushion cut. Woo Hoo. Then Covid, then should I wreck a perfectly good sapphire ring when I already have at least two loose sapphires, three if I include the white sapphire?
I went into my jewellers today to pick up some of the other jobs and a "surprise" awaited me.
Here she is. Very very nice.
Cushion cut heated sapphire around 4 carats set into 3 1/2 carats of diamonds ballerina setting.
Love a huge halo, love massive coverage on size 7 1/2 meaty fingers.
AND the bonus, the white sapphire will fit into the other setting!