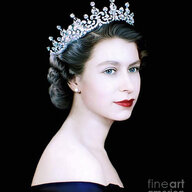 Joined

Oct 24, 2012
Messages

5,119
This is a very serious question & I'm not fishing for compliments.

The diamond studs I only ever remove for cleaning are .35 each, a gift from my parents for my 25th. Mr T bought me a .40 solitaire pendant from Tiffany's just after we met, so again, only removed for cleaning & I'm super sentimental about them.

For my 40th Bday, Mr T surprised me with new studs (.50 each) & a pendant (.75ct) as we have more money now. What a treat, I hear you cry, especially as we ALL know Mr T is tighter than a camels arse in a sandstorm!! Well I think I have worn the new set less than 10 times & I turned 46 a couple of weeks ago. Shameful, right? I have always felt they looked massive on me, but they might only feel massive because I'm so used to smaller ones & have small earlobes. But Mr T has insinuated more than once perhaps they were a waste of money? And I'm NOT an ungrateful person at all, so I thought I'd put them on today. I know your gals wear significantly bigger & look gorgeous, but I don't & I feel weird. Pendant is passable as I have wide shoulders, so I have worn that more for fancy parties, studs feel like boulders. Thoughts & opinions? Happy to take less crap pics if necessary, but wanted to show scale.