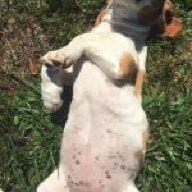 Joined

Dec 27, 2013
Messages

2,740
Hi,
I am hoping that some of you may have some input for me. PS has such a wonderful group of people so I thought I would ask for some help.

DH & I are finally approved and ready to start volunteering with children's cancer care services. It has taken awhile to get everything ready. I still have to finish writing the final policies, but the important thing is we have our first visit scheduled. What I'm wondering is if anyone has any do's/don'ts on things to say/not say when visiting with someone who may have cancer or other serious medical condition?
Anything that you can think of from even a friend or family member standpoint would be helpful.
I hope to introduce my dog, explain what kind, age and other small facts first. However, I didn't want to ask the loaded question of how are you feeling, what kind of cancer or things that aren't my business. (I would never ask things like that in a normal setting anyway)
I really want to think of some carefully considered questions that won't offend.
-are you feeling up to visiting with our therapy dog today?
- do you like animals?
- can you tell us about your pets? (Does this make them miss them if they aren't able to see the pet right now?)
Any tips needed. Help!