Joined

Apr 6, 2019
Messages

1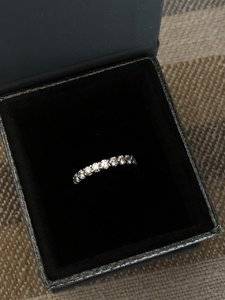 Hi,
I purchased an $899 (12 stones) diamond band from Costco recently.
"Round Brilliant 0.63 ctw VS2 Clarity, I Color Diamond Platinum Band"
To be safe, I plan to insure the ring so I took it to my local gemologist to receive an insurance appraisal.
While browsing at her jewlery store, I noticed there was a huge price difference in my ring and the rings that looked very similar to mine, except all the rings I saw were in white gold.
While I don't know the clarity of the stones, nor the weight or the color of those white gold rings, it made me concerned for my ring.
For example, a ring that looked almost identical to mine but was in white gold was priced at $2,180.
My appraisal for my platinum ring came back at $1,090 before tax, I'll also add that all the specifics from the Costco website were confirmed.
Here's my concern.
(The gemologist recommended Jewelers Mutual as my insurance because she uses them.)
JMutual does not give out a check to the client (me) when a piece needs to be replaced, it uses my jeweler of choice as a middle man.
So I asked the gemologist what would happen if I ever lost my ring and picked her store to get a new ring from. She did not give me a definitive answer.
My appraisal of $1,090 wouldn't even afford me a similar ring in white gold at her store.
She explained that a ring bought online from Costco doesn't have a lifetime warranty or the service from sitting down and talking to a jeweler that I would receive from buying at her store.
I do understand that but I feel as if my ring quality in her eyes, is not enough simply because of where it was bought.
As a customer, I was under the impression that an appraisal is based on the quality of the ring itself and it's diamonds. Maybe I'm wrong.
But is this common?
Should I look for another insurance company instead?
My main concern is what would happen if my ring is ever lost or stolen and this just made me feel uneasy about the situation.