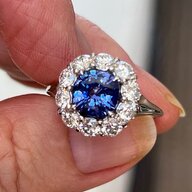 Joined

Aug 18, 2013
Messages

6,408
We don't spend a lot of money on Valentine's Day in general, but always do something - normally go out to dinner. This year we said we would exchange cards and something we made ourselves. Well, hmmmm. It sounded good in theory. DH stuck to the plan, but I buckled entirely, and tried to compromise by only buying fairly boring gifts! (sox, slippers, guy soap - because he is very tired of smelling like No 5! - a Starbucks gift card and a gift card to our local diner)
But DH started a couple of weeks ago and went and chatted to the nice ladies at Michaels about how to make scented candles.
Once he worked out the recipe, he did a miniature test run, which was on my tray with my brekky in bed this morning. When that was successful, he made a larger version, using a beautiful container and scented it with pure lavender oil bought directly from a lavender farm in California. He bought lovely silk ribbon and gave the finished product to me with 2 dozen long stemmed roses. What a wonderful man he is!
He also made me breakfast in bed - which is no mean feat when your wife only eats a keto diet! He made 'chaffles' (cheese waffles - in this case, cream cheese), which use almond flour instead of regular flour, served with a scoop of home made 'mason jar' chocolate ice cream and a few fresh blackberries, all served on a tray...with a little lavender candle.
And, of course, a wonderful card.
I just love that man to bits! Seeing my very blokey-husband measuring proportions of lavender oil to get just the right balance, and experimenting with dots of dye to get the right color, was entertainment in and of itself, and warmed my heart. No jewelry this year, but this man has a twinkle in his eye brighter than any diamond. <3
Happy Valentine's day to you all!
PS No photos of chaffles, chocolate ice cream and blackberries - I scoffed it down before taking a photo of it even entered my head!