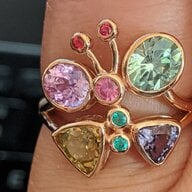 Joined

May 13, 2018
Messages

3,976
Near the beginning of May, I had the idea to set my cushion unheated Burmese sapphire with a pair of kite diamonds in a 3-stoneb ring, all three gems with a diamond halo around it. I communicated this with MRoseDesigns and paid the CAD fee. She got back around a week later with a set of CAD images, but I just didn't like the gallery and sketched out what I would like for the gallery. Two weeks later, no reply. I inquired two days ago asking if she is working on it, and she still hasn't responded back.

The CAD fee is cheap, but she claims with the listing for the CAD that it's for several iterations of that's what's needed. I don't want to casually leave a bad review, but I seriously hate being left in limbo wondering if I should still wait for her to get back to me about changes to her CAD, or go with another vendor.

Comments or suggestions on how to proceed? Anyone have experience with a custom design with her? How long does the process take?