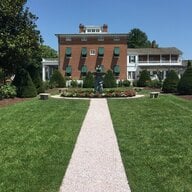 Joined

Jun 5, 2013
Messages

216
Fell off the PS bandwagon for a while because I've been so busy with school work and family illness but I recently saw a lady with a 2ct-ish radiant on her finger and it made me lose my cool. Ever since then, I've been stalking and lurking and I've come to realize that I'm seriously thinking about making the change and leaning more towards a rectangular cushion.
Before getting engaged, I considered a round and the standard cushion shape and we decided on a round. I've been very happy with the shape ever since and have never thought about changing shapes (only size
) I'm afraid of the change in light performance from a round and whether or not I'll fully move on from the round once I switch.
So I'm asking the opinions and thoughts of anyone that has gone from a round to a radiant or elongated cushion.
Thanks!