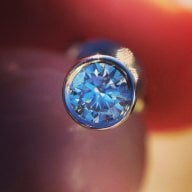 Joined

Jul 7, 2004
Messages

10,763
I buy lots of things from Etsy, especially little cellphone pouches. My favorites so far are from SeasideSew, BlytheKing and Rockitbot (nerd herder!!! best name ever!)
I have gotten one handbag on there in the past, and lets say it was less than stellar. Mostly workmanship issues and for how much I paid for it, I was really unhappy with that. But after a few years, mostly stalking this person and her shop, I am splurging on one of her bags, slightly customized. The seller is ValhallaBrooklyn. I got to pick the lining, I got to pick the leather and dictate measurements. I am SO NERVOUS and super excited.
I normally use Linea Pelle Dylan bags because they're well made and the leather is DIVINE. Since Minneapolis and the little theft I encountered I decided I needed a similar style bag with a long adjustable strap I can add for when I am sitting in a restaurant like that again. I was all set to buy the crossbody verson of current Dylan, and then remembered these...so now I am awaiting it's completion so I can pay and get it
Anyone else buy a bag from Etsy? Or this seller?