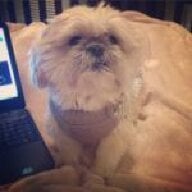 Joined

Jan 1, 2011
Messages

1,383
Never thought I would say that at 28, but here I am. I hesitated to post this because not even my family knows, but I just need to get it out there. Here is a little back story -
I've been married 3 years, together with my husband for 7. Early this summer, he began to open up to me that he is not happy, hasn't been in a while, and he loves me but is not in love with me. He sought therapy to figure himself out. Soon after, I discovered that he was involved in an online relationship with someone from across the country who he has never met. She is also married, but it seems like they were making plans to be together at some point in the future and leave their respective marriages. Well, as I discovered my husband's affair, so did her husband. They both decided to cut off communication (I think more the mistress's decision than my husband, which says a lot), and work on their original relationships. My husband and I have been in counseling since then. We have been working really hard and I thought things were a lot better. Yesterday, he approached me and said he feels guilty, that I deserve better, and that we both should move on. He doesn't want to try anymore. Feels that we are great friends but nothing more.
I don't want a divorce, but I can't make him stay obviously. He makes me happy but it is not mutual. Does anyone have any advice that might make this experience easier? We don't have children or own property together, which I feel very fortunate about. He is willing to allow me to still see our beloved dog. I suspect he will want to do a no-fault divorce, which is allowed in our state. Our money is separate anyway, no shared accounts, etc. Our lease is up in March and I will probably be moving back in with my parents...

Thanks for reading. It feels good just to talk about it.