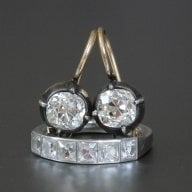 Joined

Nov 28, 2011
Messages

2,419
Hi guys!
I hope it's ok for me to post a question here, since I've switched to Trade a while ago. But I don't know who else to ask.
Long story short -- I had a pair of earring findings and recently found loose pearls to use with them. Took everything to my jeweler, who likes to be helpful and quick... he glued them in on the spot and didn't charge me for the work. Which is really nice. But one of the earrings has glue spilling over onto the pearl. I have no idea if this can be safely cleaned up, or if this is a damaged earring now. Any advice?
Thanks for your time!