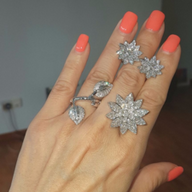 Joined

Oct 5, 2006
Messages

9,437
I'm going to Spain in a few weeks' time for a holiday and would like some suggestions please. This may be a stab in the dark, but would like to know if anyone would recommend Valencia or Alicante or both?
I'll be in Marbella first, with friends (I've been before to Marbella and will be going back); and from there, we're planning to drive to Valencia and/ or Alicante. Thinking we may EITHER stay 4-5 days in either location and drive to the other OR just go to one location and forget the other altogether.
Are there a lot of things to do and to see? Would 4-5 days at one location be too long? or should we stay at both?
I'm interested in food (mostly), some sightseeing (I like architecture and nature). I'd be more keen on all things Spanish. What and where would you recommend we see and do? Things like amusement parks or aquariums are not on our itinerary.
I've done some research online, but still can't decide.
TIA.
PS. My friends would like to go to Benidorm, but am not so keen - it seems to be full with loud drunken tourists (or is this an unfair impression?

). I live in a hot climate with beaches and never go to the beach. Should I give it a miss altogether? My friends are a lot younger fwiw.
PPS. What jewellery, if any, should I bring? Am thinking my tennis bracelets and coloured stone rings & earrings and pearls. Am most concerned about safety. I know Marbella is perfectly fine, but am not sure about Alicante or Valencia.