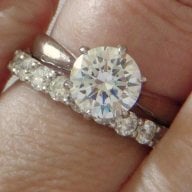 Joined

Jun 16, 2008
Messages

770
I keep reading these threads with ''show me the tiny hands'' and I''m feeling kinda lonely out here!
I was a 7 for the longest time in my ring finger, but after 2 kids, I am now comfy in an 8... I have an ''extra large'' bone frame... you know the age old excuse? I really AM big boned!! ROFL!
I am 5''10" and I have to buy mens gloves and have never been able to wear a womens watch without adding links or swapping out the band for a mens band!
OH, and I had to have a waiver when I was in the Air Force so that they wouldn''t put me on the ''fat boy'' program... because at a size 4, I weighed 178lbs!!!
I want to see some lovely ladies hands that are size 7 or bigger!