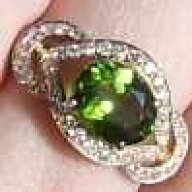 Joined

Sep 12, 2006
Messages

151
Hi there
I'd love some advice on repairing an antique seed pearl necklace. My question is, should I try to 'stay original' as much as possible or should I update the old pearls with fresher ones for aesthetics?
About the necklace
My mother gave me this broken antique necklace. A seed pearl choker with gold spacers and gold-and-turquoise drops. It's probably from India or Pakistan, created for the 'Anglo-Indian' market.

I've had one drop made into a pendant for me and another into a pendant for a niece. I am about to send the rest of it off to a very good pearl restringer. I am asking her to restring this and extend it at the ends of the necklace.
I've done some research. Necklaces like this in the UK in good condition run between 600 and 900 pounds in value - worth something, but not an investment piece. And, this one needs a repair and is missing a drop or two.
To help repair/extend it I got two tiny strings of itty bitty freshwater pearls. They're not quite as tiny as the seed pearls, and they're a few shades whiter. You can see them in the photo above, and here: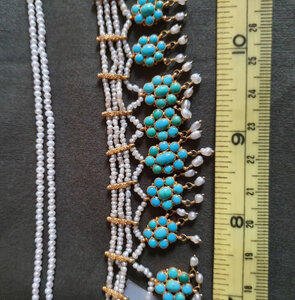 The catch is...the old gray-white seed pearls don't look so great against my ordinary fair skin. The fresher, whiter seed pearls look better.

Which option would you choose or recommend?
I have three options for the restring:
1. Try to 'stay original' and use the newer pearls to extend the necklace to a wearable length for me.
2. Update the necklace's aesthetics, to brighten it up, and ask the pearl stringer to alternate seed-and-new pearls in the front of the necklace and for the extension.
3. Try to get some better matching seed pearls and wait on the restoration. (I'm in New Zealand so this will take a really long time with current delayed mail times - and I do like the look of the new pearls!)
I love its handmade feel and variations. With my life, I'll be wearing it with casual-to-nice drapey clothes at events like friends' fancy birthdays, not with a ballgown.
Looking forwards to your thoughts!!!