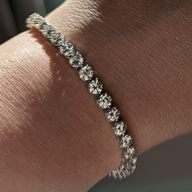 Joined

Apr 23, 2019
Messages

265
Ok All, so I'm a big fan of Lang and EraGem for my antique jewelry purchases- their selection is stunning, and their Customer Service is phenomenal.
When making such a special purchase, as jewelry always is, it is SO important to have a good experience in doing so. Customer Service matters- A LOT.

I recently thought about giving another vendor, Erstwhile, a try. Their selection online is lovely and I found a piece I was genuinely interested in, so much so that I started moving funds around in my head to map out how to make it happen. When I emailed them to inquire, however, I was absolutely shocked at their rudeness. I am still stunned, and come to find out, it was actually the manager I was communicating with, the MANAGER of the store driving customers away with her behavior, unbelievable! At least she drove me away from the store. I would NEVER make a large jewelry purchase from a vendor that treated me the way I was treated. I can certainly take my business elsewhere, and will.

Have any of you had similar experiences?