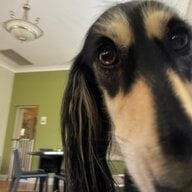 Joined

Jan 22, 2014
Messages

5,356
I've discovered that by converting brooches to necklaces or bracelets and converting vintage watch cases to bracelets gives these unworn items a whole new lease of life. This is my latest project.
This one is a bit of a "bone of contention". My mother bought it at Auction,1990s, as a diamond watch and diamond bracelet. Consequently not a small sum of money was spent to acquire it and for many years she wore it on special occasions very happily. It was always a bit loose on her wrist so eventually she gave it to me to have my jeweller shorten the bracelet.
Well, that came with a suprise, not in a good way. Yes, the head is diamond set and the bracelet is solid14k white gold but the stones aren't diamonds. They are CZ. At first he thought maybe the one he tested was a replacement but no, all were CZ. My jeweller was suprised, it is a very well made bracelet and not what he, or me or my mother were expecting.
Hmmmm. So into the drawer it went and my mother bought herself another, more beautiful, diamond watch. Recently she gave me the watch.
I decided to embrace the mismatch by adding a Moissanite into the centre. I did look at other marquise shape stones but they are harder to come by and nothing really appealed so I went with Moissanite.
Its not done as yet, this is just "loose" but it will make a pretty and sparkly bracelet and that will do.