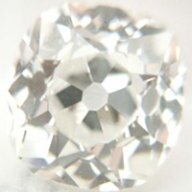 Joined

Jun 23, 2003
Messages

187
Where to begin.....I happened upon pricescope while trying to learn about the significance of flourescence.....and I''m SO glad I did, because I''ve learned soooooo much more! After reading the tutorial and lurking on the forum I was quickly sold on the idea of using the HCA to help me to choose a diamond.
People were speaking very highly of
Good Old Gold
, NiceIce, and
Whiteflash
, and so I explored their respective sites. While NiceIce and especially
GOG
both have wonderful information, I found it easiest to compare price and quality of stones on
Whiteflash
, searching their A Cut Above line. I found a stone I wanted, and not wanting to miss out on it, quickly purchased it!
I then realized that I had timed things terribly, as I was going out of town and jewelers and appraisers everywhere seemed to be on vacation for 4th of July! Well, I spoke to Lesley at
Whiteflash
and she was very patient and helpful, and gave me extra time to search for a setting, get an appraisal, and generally be sure that I had made the right decision,

which I ultimately decided I had. I''m very happy with the service I received, and the accomodations that
Whiteflash
made for me, and I''m also very happy with their lifetime trade-up policy which I''m almost certain to make use of at some point!

The stone, BTW, is A Cut Above H&A .82c I si1, and is beautiful! The inclusions are extremely difficult to find even with a 10x loupe. The HCA gave it a 1.1, ex, ex, ex, vg.
The
Whiteflash
photo is below, and you can see my attempts at photos at
https://www.pricescope.com/community/threads/my-diamond-pics.7884/
I can''t wait to get it set so I can wear the darn thing!