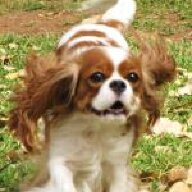 Joined

Feb 29, 2012
Messages

31
I was lucky enough to receive this ring from my now fiancé 2 weeks ago. We began our ring shopping process a couple of months back, and both fell in love with the Soleste @ Tiffany. However, we had a very difficult time finding the right center stone. We wanted a width/length ratio of near 1:1, but the only Soleste styles that fit this ratio were smaller center stones (I think the biggest one was about .62 ct). PLUS, the price for the 1 ct center was nearly $25k. I don't remember the exact specs on that stone, but it was 1.02 ct, F/VS1. Their .65 center Soleste was just under $12k for an H/IF. We have since learned this is supremely overpriced.
About a week of research on PS led my fiancé to Mark @ Engagement Rings Direct. We were both hesitant to buy a cushion online, but we both could not be more pleased. We learned more about cut and light performance. Mark had an antique cushion (I think they are called his "a cut beyond") that was nearly square, with a spread bigger than the 1 ct @ Tiffany's. Mark told my boyfriend he could make a version of the Tiffany Soleste, and I was a bit dubious that it would look the same. I really wanted a delicate band and very delicate halos.
Then I thought someone else had bought the stone because there were a few people on PS discussing it/recommending it (thanks to Gypsy!!). My heart sank but I knew Mark could find us another stone if we were patient. Turns out, my boyfriend had snapped up the stone immediately...I had no idea!
Link to video:
http://www.youtube.com/watch?v=2Gz4vWQD1Qw
Here are the specs:
Cushion Brilliant
1.05 ct H/VVS2
6.26 x 6.22 x 3.93 mm
1:1.01 ratio
table: 50.6%
depth: 63.1%
ring size: 6
The pictures do not really show how much the smaller inner halo "absorbs" into the center stone. In person, it makes the already gorgeous center stone look even bigger. It almost looks like there is just one halo. At the outset, I was kind of opposed to a double halo because I didn't think it would look as good as the Soleste, but boyfriend really loved it and Mark echoed his sentiments, and in the end I am SO glad they went that direction. The ring is simply gorgeous and I have received countless compliments! It is delicate but still a major eye-catcher. Ladies, this is why we should never compromise on CUT!!
Sorry if I've made the post too long, but I tried to include everything because I remember how much we appreciated all the info we could find during our research phase.
Enjoy some professional shots from Mark, as well as hand shots. And let me add an overwhelming vote of confidence and full recommendation to both Mark & Chris @ ERD. We are going to New York for my birthday/graduation in June and can't wait to meet them in person!