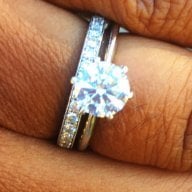 Joined

Mar 25, 2014
Messages

1,514
Christmas came early for me. I bought this band a couple of months ago and now that I have the most perfect spacer band ever, I thought I would share some pics of my dream wedding set with my fellow PS'ers. I have posted a couple of pics of this in other topics but I love the set so much that I wanted to give it a proper
Diamond Band-
BGD
Dream Band size 6.75
Spacer- .8 mm 18K YG Extra Skinny Ring by Le Cubicule/Etsy size 7
E-Ring-
BGD
Tapered Tiffany size 6.75
I bought the Dream Band pre-loved on DB. It was a great price for the 11 X 5 pointers of the
BGD
ideal cut melee. The original owner posted the specs as H/I color. My appraisal, for insurance purposes, came back as G/H color

. I have always wanted the Dream Band ever since I discovered it on PS- thanks to Dreamer_D and her amazing reviews. It just screams married to me. It looks great alone, stacked with other bands or paired with my e-ring. It sparkles like mad with literally blinding sparkle at times. I also think that the proportions look great with my 1.25 ct
BGD
Blue. It is extremely low, but does graze my e-ring ever so slightly so I searched for a spacer band that would appear invisible.
The invisible spacer band that I discovered, also thanks to PS, is by Le Cubicule on Etsy. I chose the 18K YG hoping that it would mimic my skin color and I was right! It is just gorgeous. I read the reviews and saw that some people thought her bands ran a bit small so I ordered a size 7 instead of the 6 3/4 that I would normally get for my left hand. The 7 is a perfect fit. It is comfortable and provides more than adequate space between my e-ring and the girdles on the Dream Band.
My
BGD
Tapered Tiffany-- what to say-- she is amaze-balls and I love to wear her! I still enjoy wearing my plain bands with my e-ring, but it is really nice to have options!