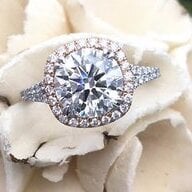 Joined

Dec 8, 2016
Messages

457
For those of you who know me, you know I had seven cats, all of which are rescues. One of which this forum helped me rescue. I also have two fosters that desperately need a new home. I try not to have favorites but...
And on Friday I we had to put my eldest, and my favorite, Dunca, to sleep. My husband and I don't own a home. Due to my husband's job we've moved very often. And my cats and my husband are my home. And if I'm to be honest my husband and Duncan were tied for 'home.' My husband and I have been together for 19 years. Duncan has been with us for 17. He's the entire reason we rescue as many cats as we can. He's the entire reason we have so many. He was the perfect cat. And he was the most loving animal. He adored me and John and was truly as devoted and loyal as people think only dogs are. Anyone who met Duncan tried to run off with him, and even people that didn't like cats loved him. I called him my heart, my baby cat, and my angel.
He died in the middle of the night. By the time we got home from the emergency vet it was morning. And while we were driving I saw a rainbow. I've seen rainbows before but they've always been a part of a rainbow. Usually half of one that faded into the sky. But that morning, when I thought nothing in the world could make me laugh, suddenly there was a full rainbow as if someone had photoshopped it into the sky. Just like the one below. And I heard this sound and I realized I was laughing with the simply joy of seeing something so amazing. It was only there for a couple of minutes but it was there. And I thought, fancifully perhaps, that it was heaven welcoming my baby home. We always call it the rainbow bridge after all.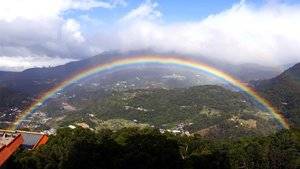 And then tonight, my husband and I went to a pub (something we never do) to raise a glass and toast our baby's passing. And on the way home a cat ran across the road. And we braked. I stepped out and called out to it, and it came running. Scared, cold, uncertain, fur matted. And so well socialized it jumped up into my lap when I sat back in the car. She's one of the most beautiful cats i've seen in person, she's so fluffy (I'll post a picture tomorrow), and sweet. I'm sure she's owned by someone, so we'll take pictures of her tomorrow, and then take her in on Monday to see if she has a chip and get her home where she belongs. There is no way she's a stray. And when she jumped in my lap, I swear I felt Duncan with me. Telling me to help her. And letting me know he'll always be with me.
He was and always will be my heart.