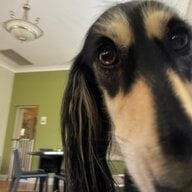 Joined

Jan 22, 2014
Messages

3,461
I have a ring to unveil tomorrow on my birthday. It has been asked "does your other half buy you presents you don't really like?" My secret is "buy your own". Sure takes away the "oooh surprise" but it does prevent the "ahhh, hmmm".
This prize ring has been seen before, I purchased it off a fellow Pser (though quieter in forums these days).
To me it is the ultimate ring, the design, the workmanship is beyond anything I've ever seen, except in "those" magazines. Never would have I thought that I could afford such a work of Art, but I have.
As part of the "plea deal" with DH I will have to rehome my beloved and glorious opal ring, sigh, great opals are like hens teeth. They just aren't finding them as frequently as before and apparently the best gems are whisked away to Asian markets where they are some very deep pockets for the best of the best. But this one is better, the ring, not the opal, so that's saying something!
And I really want to it to score a "jewel of the week". Am I terrible for looking at the other glorious rings and thinking hmmmm, maybe I'll save it for a "quieter week" if there is one?
And for once having porky fingers has worked in my favour. This ring can't be resized and it fits me perfectly.
Meant to be I'd say.
Stay tuned.