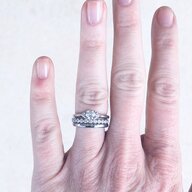 Joined

Oct 13, 2016
Messages

18
Hi all! I'm still relatively new here (only my 2nd post) but I need some help. So, hubby and I will be celebrating 15 years on our next anniversary and though I don't regret it, it hasn't been all roses. We got married when we were young and poor and though he picked out my original engagement ring, I wound up paying for it myself. It wasn't elaborate by any means - just a quarter carat solitaire with two 1 point melee diamonds on the side. He had borrowed the money and when I found out two weeks before the wedding, I couldn't handle the thought that I was about to walk down the aisle wearing a ring the best man paid for. So, I made my now hubby take me to the bank, I took out the cash and I gave it to him to pay his friend back. Anyway, we got married two weeks later and joint accounts and all that meant that all our finances sort of melded together so it's not like I ever got "paid back." Fast forward 13 years and my husband wound up getting drunk and making a stupid mistake. Coupled with the fact that they never held much value to me because I paid for them myself, I couldn't stand to wear my rings after that. They sat in a jewelry box for about nine months and then I finally sold them and donated the money to my kids' school.

Two years later, some counseling, my husband has stopped drinking (he's a year sober now!) and we're doing better than ever! I'll be getting a new wedding ring and I'm not sure what is appropriate or even what I want. I mean, we're already married so I'm not sure about an engagement ring. I was thinking an eternity wedding band (because I definitely want sparkle) but I'm not sold on that either. Part of me really wants to get a beautiful engagement ring like I wanted the first time around and part of me is more practical and wants to just get the eternity ring because it says, "I'm married." I haven't had a ring at all in over a year.

What would you do? I definitely want a ring that says, "I'm married," not one that just says, "I'm engaged." And I'll only be getting one ring. What kind of ring do you think would be appropriate as a wedding ring but not be too plain? Share any pictures you have that you think would be helpful!