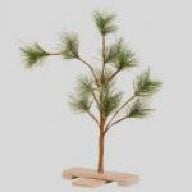 Joined

Jan 18, 2012
Messages

660
I've slowly been putting together stones for a 9-stone OEC sprinkle DBTY (justification: either my big Christmas jewelry purchase, coming rather late this year, or 9 stone = 9 months of pregnancy with our first baby, due in November, but not contingent on actually gestating the full 9 months, as much as I hope that will be the case
).
Here they are, kind of a range of colors (all are uncerted, sold to me as G/H through L/M range -- many of them from our own
dandt
; thanks
dandt
!

) but I can't tell the difference in such small stones & they'll be set in rose gold anyway. Diameters range from 3.5mm to 4.4mm, it's about 1.5cttw so far.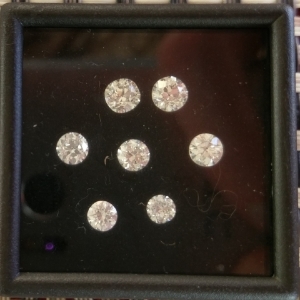 You'll notice there are only 7 stones here.
I was thinking of adding either one "focal" stone of about 5mm plus another in the 3-3.5mm range, or a couple of wee little single cuts (2, 2.5mm or so) to provide visual contrast. Right now I think the group is a little too close in size and needs some punctuation!
This is the kind of scatter I'm going for, ish. They will be closer together than this looks, since it'll be 9 stones on a single-strand 16" (+2" extender) necklace. (This Tiffany necklace is 1.30cttw of sapphires, 36" doubled over for the picture.)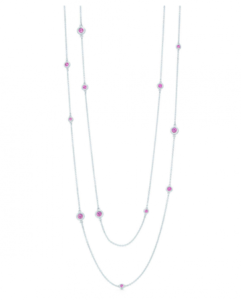 So, advice, opinions? Anybody have a scatter/sprinkle DBTY they want to share a photo of, for inspiration? Should I go with the single cuts or the "focal" stone? (Or maybe a focal stone + one single cut? Is the broader flash of a single cut going to look weird among these little OECs?) I'm planning to have it made at Joe Escobar -- would it be wiser to have JE source the single cuts, or buy them myself (e.g. from AfricaGems)? Is a 5mm diamond, bezeled, getting too big & blingy for everyday wear? For reference, my e-ring is a bezeled 7.3mm OEC (though not wearing lately, too tight
) and I wear my 1.7cttw OEC 5-stone as a RHR every day. Heeeelp.