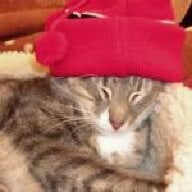 Joined

Aug 14, 2009
Messages

21,525
Starting a new thread so it's searchable in future.
In all photos:
Strand #1 is my Hanadama, 8.5-9mm, keeping vendor unstated as PSL report renders this detail irrelevant
Strand #2 is my Ten-nyo, 8.5-9mm, keeping vendor unstated as PSL report renders this detail irrelevant
Strand #3 is my newest strand from @molinePDG, 8-8.5mm (no certificate yet)
No editing besides cropping and reducing resolution a little (originals were too big to email). This isn't intended to be a "Show me the..." thread and these aren't meant to be glamour pics - just for comparison and discussion
General thoughts:
The Hanadama was purchased in-person several years ago. I chose the most lustrous strand. This was not the strand with strongest overtone. It was also not the strand with thickest nacre.
The Ten-nyo I bought blind, but the certificate displays very strong Aurora (corresponds to real-world iridescence/overtone).
The strand I just bought from
@molinePDG
is uncerted - I'll send it to PSL when the COVID-19 situation calms.
My takeaway here is the same ol' same ol': I got what I paid for. As a US-based consumer with no trade connections, the Ten-nyo was 1.5x the cost of the Hanadama. Strand #3, with smaller pearls, was 2x the cost of the Ten-nyo - this strand was apparently more wholesale than my retail Ten-nyo price. And it is astonishing IRL.
Hanadama: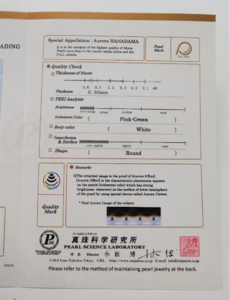 Ten-nyo: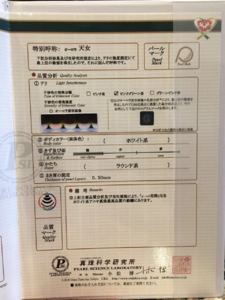 Lustre:
Strands #1 and #2 are
really
nice pearls. The Hanadama was the sharpest of seven. And I've bought other Hanadama strands of different sizes from various vendors for family - Strand #1 has always been most lustrous. In some lighting I give the Ten-nyo the edge over the Hanadama, but in other lighting it's a toss-up.
Strand #3 turns them both milquetoast. Across all lighting environments. The photos are true to life - it's just not a fair comparison. I actually had the gem Strand #3 strung into two separate bracelets - and I was shocked (and delighted!) when I opened the boxes.
Skin:
The skin on the Ten-nyo strand is pristine. The Hanadama is a close second.
The gem Strand #3 has unevenness that is noticeable on close inspection (caused by areas of very thick nacre that are non-uniformly distributed), and exactly ten pearls have other small dents and marks - yes, I counted! When buying, Andrew told me that his supplier had found two strands: One was very clean but had slightly less lustre than the other, the other had a few blemished pearls but metallic surfaces. I prioritized lustre. The blemishing and unevenness of skin is visible in photos, but is unnoticeable in-person without close inspection just as Andrew said it would be - the lustre drowns everything else out. I would have loved both exceptionally clean skin and exceptional lustre, but if I have to choose I'm happy with my choice.
Overtone:
The real-world overtone on the Hanadama is... Present but unobtrusive: The pearls definitely aren't flat, but I look at them and see "white". I've seen both less-irridescent and more-irridescent Hanadamas. The overtone on the Ten-nyo is much stronger - the stronger pink is the Japanese preference, and it's also my preference. This is commensurate with expectations for the Ten-nyo classification.
... And like lustre like overtone - again, the gem strand makes it an unfair comparison. The two iPhone photos at the end - this is what my eyes actually see. This
is
the real-world difference my eyes see. #Absolution.
From the camera: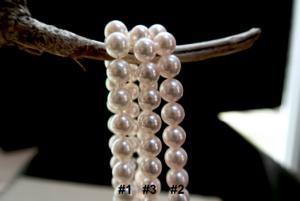 - - - - - - - - - -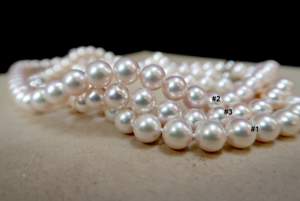 - - - - - - - - - -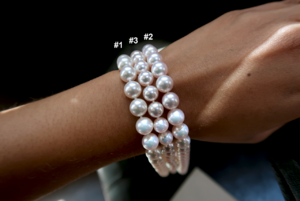 - - - - - - - - - -
- - - - - - - - - -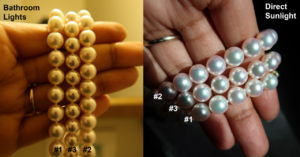 - - - - - - - - - -

Turns out the iPhone did a much better job in the bathroom than I did with the camera: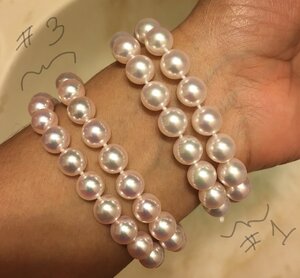 - - - - - - - - - -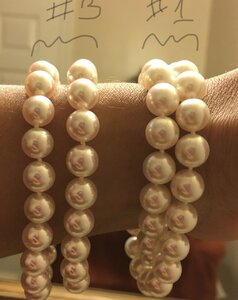 Last edited: