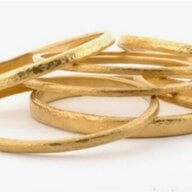 Joined

Jan 26, 2003
Messages

22,072
In another thread
Trekkie
posted some really interesting information about the Xhosa language. I know nothing about it or its origins, but was fascinated by how it sounded when spoken. I was also interested that it is written with the Roman alphabet and would like to know more about how it came to be written down in that.
I have posted about my niece and her husband elsewhere on Pricescope before. (I mean, it may have been in Hangout, but in other threads.) My niece is completely bilingual in English and Spanish and fluent in Italian. She also appears, now, to have mastered her husband's native language of Wolof. She went to Senegal once before, but will be returning there this summer. And this time it will be with her husband for the first time, to meet his family. She wants to be able to communicate with them. They speak both Wolof and French. She has been less interested in learning French, the official language of her husband's country, and has only been chipping away at that slowly. (It puzzles me that she dove into Wolof rather than French when she already speaks Spanish and Italian, but perhaps she hears Wolof spoken around her husband's Senegalese friends? Or perhaps Wolof is easier?) I used to speak French with her husband before his English improved, and I noticed that he spoke French with several of his friends. It was a
lingua franca
for couples of mixed ethnicity that that my niece and he knew. (For instance the best man at their wedding was Senegalese, but his his wife was Haitian. I don't know if she spoke any Wolof. But, of course, they both spoke spoke French.)
At any rate, I thought I would contribute a YouTube tutorial on Wolof to this discussion although it cannot compare in interest to Miriam Makeba's "Click Song"!
Wolof Lesson...
https://www.youtube.com/watch?v=YB3RBQLfQHw
AGBF