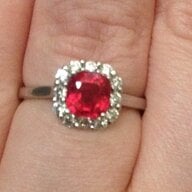 Joined

Mar 30, 2019
Messages

837
Hi there,
I have an African ruby ring and the flourescence in the sun is pretty strong - it really lights up in the sun. But just wondered, do Burmese rubies flouresce even stronger in the sun than African rubies? Or is it ultimately down to the individual stone?
Here are some pics of my ruby ring, in different lighting conditions. I can't capture the color accurately, it's more like a vivid deep crimson red (bluey red not orange) during the day out of the sunlight (pic 1) and dark crimson red in incandescent light (pic 2), can be fuschia/light pink in sunny indirect daylight in a room (pic 3) and bright crimson red in strong direct sunlight when it flouresces very strongly - unfortunately, I don't have a picturre of this as I can't capture the color but have attached a photo of it in strong sunlight coming in from the window.
Would love to see others' rubies in the sun too! If anyone has both African and Burmese rubies, would also be great to see a comparison shot of the two next to each other.