Joined

Oct 7, 2016
Messages

1
Hi,
sorry for the long post, but this might be one of the most important purchases I am going to make.
(perhaps not money wise, but certainly emotionally wise)
I would like to ask my GF to marry me (spoiler, I already know she will say yes, even if i would give here a cola can ring... Every time I bend down to tie my shoelace she says YES thinking I am going to propose
i am probably also one of the lucky people who has a girlfriend that prefers small diamonds over one large(r) stone.
Although I would prefer her wearing a simple white golden ring with one round or princess cut stone, she saw this ring which she
likes (the left one)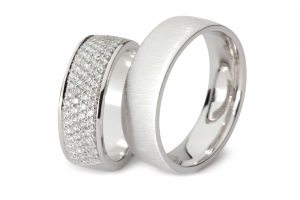 i have seen a few in regular jewelry stores, before I became fascinated by the whole diamond "thing", and this week I was at a stone dealer in the Antwerp diamond exchange.
He charges me for good stones (whatever that might be, since not graded) 0.017 CT per stone, in total 60 stones needed for 60% coverage, and a 12 gram 18ct white golden ring, labor etc 1700 Euro.
Is this a realistic price?
Regarding diamonds, since very very small anything in particular I need to think about..
The ring in price is way below what i had budgeted
Any help much appreciated!