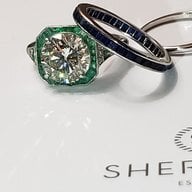 Joined

Mar 7, 2016
Messages

1,179
One more---hadenfred_gems on IG has been recommended on PS. She is great! I have not purchased anything from her but she would be my first stop for this request. Her prices seem very reasonable & I'm sure she would be able to find the spinel for you.

(Edited because I'm not sure of her name.)

[Again, I am in no way affiliated with this vendor.]

I've now recommended so many IG vendors I must seem like some sort of IG plant! I promise I'm not. Only trying to help.
I have bought from Annie. She is very accommodating with photos and info without being pushy and has very pretty spinel at good prices. I wouldn't assume I could return though.
You might ask her specifically for what you are looking for. I mentioned my parameters but she didn't have anything in hand at the moment. When she had a stone in that might work she dm'd me before it went up in her IG. I did find the one thanks to her efforts. I also asked about melee in a specific color and she was able to find me what I needed immediately. No guarantees but never hurts to ask.