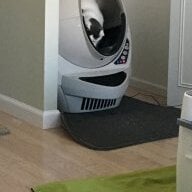 Joined

Jul 27, 2011
Messages

6,583
My friends live in a historic landmark home with a name. It is within my HOA. Recently, volunteers they know at another historic home that allows tours told them that they've been seeing pictures of the home on Instagram. A quick google search brought up the IG account and the photos - they are being posted by the next door neighbor, "K". What creeps my friends out is that she's taking pictures of flowers in their backyard in such a way - think macro of a plant - that she had to have BEEN in the backyard to take the picture. She also takes pictures of the house number, zoomed in photos of doors, etc.

I have suggested that since this is their next door neighbor, they politely tell her that friends alerted them to the pictures online, and while it looks like she has an appreciation of the wife's plantings, and the husband's paint scheme/design, could she please let them see the pics before she posts on the internet so that they can approve/disprove posting the pic(s)? Then explain that they purposely keep a low footprint on the internet, and hopes that K understands this. Also, while the house has significant historic value, it is still a private residence and they are afraid of attracting unwanted attention.

If this was your next door neighbor, and you were alarmed, upset, unnerved to discover these pictures online, what would you do?