Joined

Oct 8, 2019
Messages

20
Hi -- I am posting to get some advice on finding a good vintage ring! When we were first married, hubby and I were in grad school so did not get a significant ring. Now that we are approaching our tenth anniversary, he suggested a new ring (esp since the original was in white gold, and the rhodium keeps rubbing off and giving my skin a reaction! I need something in platinum now, I am thinking.)
I just ordered a ring from a store on etsy, and the setting was really beautiful and just what I wanted (per my original post
here
) but the clarity was described as SI1 but my local jeweler advised it was at best SI2 or even I1. And, the stone didn't look quite right, a bit incongruous, and folks on the other thread advised that is perhaps because the diamond was not original to the setting but may have been replaced later.
I am hoping for some help/guidance/any feedback you have as I am such a newbie.
* Our budget is $2-3k, although for the perfect ring if needed we could go a bit over 3 (need to stay under 4 under any circumstances.)
* I really like a delicate/simple setting, and am really drawn to baguette shoulders. I am posting a picture of the ring I am returning as the setting felt so perfect.
* The K color really didn't bother me, but I suppose it would be a perk if the color were clearer.
* And I don't *need* 1ct but .5ct has felt a smidge too small for my hand (I have long fingers and knobby knuckles which I think means diamonds look smaller on me than on others.)
* It must be platinum though because the gold has given me a reaction when the rhodium wears off (and I like the white metal look, not yellow gold.)
Stephanie suggested
this ring
and it feels like an excellent candidate! I am just wondering if there are other contenders and perhaps that would be a smidge larger even if slightly more tinted on the color scale.
Thank you so much for any help you can offer!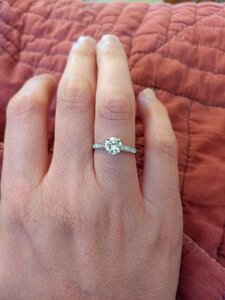 https://www.rubylane.com/item/462428-n7987/Art-Deco-Diamond-Engagement-Ring-900