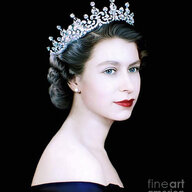 Joined

Oct 24, 2012
Messages

5,723
So I noticed yesterday that my beautiful pear cut solitaire has dropped down into its setting & the diamond is loose. This is the second time this has happened in 4 months. Last time I popped back to my jeweller who made it, as he's local, and they re-secured it in no time & said I must have bashed it fairly hard. I don't think I had as I'd have noticed & probably checked my ring immediately.

Yesterday it was Christmas Day. I dressed & popped my jewellery on just before leaving for mums. The diamond was secure as I remember rubbing my fingers over them as I often do. All I did after that was help to lay the table for dinner, open presents, eat & drink champagne. There was no hard bashes to my ring. Last night I rubbed my finger over & felt the diamond shift. Loose again.

When I had this setting made we debated 3 prongs versus 5. I wanted 5, he talked me into 3 to let the diamond shine. And it's beautiful, but now I'm wondering about long term security? Given that this is a D VS1 that was a significant purchase price to us, I don't want to loose it regardless that it's insured.

We are off to the In-laws in the morning until New Year, so I have some time to construct my "speech" for the jeweller. What would you say to him? Would you ask for a re-make? Or would you remake & bezel it? Or start over again with more claws? And would you ask him to meet me some way on the costs? This setting was a real collaboration from he & I. It cost me quite a lot of money as he's quite high end. I'm not happy, but don't want to go in guns blazing. My faith in the setting is melting away. It is up to the job?? At this rate the diamond will be long lost before my daughters are in double figures!

Advice would be appreciated.