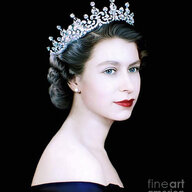 Joined

Oct 24, 2012
Messages

6,474
So Mr T is currently in the throws of a big business deal. Big. Life changing. It would permit a huge house move for us & give us every security of which we have ever dreamed of (but not my dream Tiffany solitaire - that would be frivolous, apparently....)

I bought a bottle of Dom Perignon a few weeks ago & it's been chilling in the fridge, ready for the big Sign Off, which should be happening next week. But in there with it has been various bottles of cheapy Prosecco. Now in this house, I always pour the drinks. But tonight Mr T went to pour drinks. Next thing he yells from the kitchen "Oh sh!t babe! I've opened the Dom by accident!"

I am furious. Now we have to drink Dom rather than let him go flat & already Mr T is dozing on the sofa (which has nothing to do with him running 15 miles before 9am this morning & more to do with the fact that he's a light weight). I am NOT going out to buy more Dom for the big sign off & nor will I let this bottle go flat. I shall stay up into the night to see this baby gets drunk.

Share your faux pas celebrations!